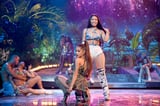 Don't underestimate the power of songs that bring the heat to the bedroom. Take your next steamy night to the next level with the sexiest songs of 2016. Musicians like Ariana Grande and The Weeknd didn't hold back this year when it came to sexually explicit songs – these puppies are HOT. Listen to our playlist on Spotify below, and be sure to watch the equally steamy music videos here.
"At Night," Liz Elias, Flo Rida
"Bad Things," Camila Cabello
"Body Say," Demi Lovato
"Calling All," Phantogram
"Ch-Ching – Redux," Chairlift
"Cherry," Luna Shadows
"Close," Nick Jonas Feat. Tove Lo
"Close Your Eyes For This," Texada
"Closer," The Chainsmokers
"Closer," JMR
"Come First," Terror Jr
"Crush," Dylan Kelly
"Dangerous Woman," Ariana Grande
"Doing It to Death," The Kills
"Drive," Glades
"Follow Me Down," CLAY
"Give It Up," Nathan Sykes Feat. G-Eazy
"Good to Love," FKA Twigs
"Groupie," Chloe Black
"Guys My Age," Hey Violet
"Hope," Tim Legend, Brave
"I Don't Wanna Live Forever," ZAYN, Taylor Swift
"I Feel It Coming," The Weeknd, Daft Punk
"Lady," Noé
"Like You," EXES
"Make Me . . .," Britney Spears Feat. G-Eazy
"Marvin Gaye," Charlie Puth, Meghan Trainor
"Naked," Jason Derulo
"Order More," G-Eazy Feat. Starrah
"Pillowtalk," ZAYN
"Rocketship," Jenny Mayhem
"Say My Name," Kngdavd
"Sex With Me," Rihanna
"Side to Side," Ariana Grande
"Silvertongue," Young the Giant
"Straight Up & Down," Bruno Mars
"Tip of My Tongue," Sam Bruno
"Underdressed," VÉRITÉ
"When in Love," Ripsy May
"Work From Home," Fifth Harmony Feat. Ty Dolla $ign
Just remember: you'll need to download the free Spotify software or app to listen to our playlists!