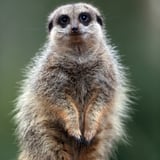 Image Source: Getty / Matt Cardy
The El Paso Zoo will help you be petty this Valentine's Day. A week before the holiday, the zoo shared a flyer stating it would name cockroaches after people's exes, then feed said cockroaches to their meerkats. "What's the perfect Valentine's Day gift? Naming a cockroach after your ex, of course!" the zoo wrote on Facebook. It's . . . poetic, quite frankly.
Following the overwhelming response – the original post now has over 5,000 shares – the El Paso Zoo has decided to extend the offer to other animals, like a cotton-top tamarin, golden lion tamarin, and white-headed marmoset. To participate in the stunning display of "no, in fact I'm not over it yet, Janet!," simply message the El Paso Zoo with your ex's name on Facebook and tune into the feeding on Facebook Live or the meerkat webcam on Valentine's Day at 2:15 p.m. MT.