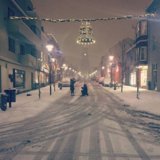 When British man Michael Kent took his now fiancée, Fiona Newlands, to Reykjavík, Iceland, to pop the question, all he could have hoped for was a "yes." Little did he know that Jessica Bowe, an American living in the city, was taking a photo at the exact moment he got down on one knee.
Photographing the couple, however, was not her intention. Jessica wanted to "capture the falling snow in the midst of the twinkling holiday lights," she told the Reykjavík Grapevine. After taking the photo, she posted it to Instagram, writing, "the man's hands were trembling as he entered his email address on my phone, and I got some nice hugs of appreciation. Sometimes you're just in the right place at the right time."
Unfortunately, the trembling caused Michael to incorrectly type his contact information and the photo was never delivered. So he decided to take action and track down the woman who recorded one of the most pivotal moments in his life.
Along with posting his search on Facebook, he reached out to local Reykjavík news outlets via social media. His tireless efforts paid off, and the couple was reunited with Bowe – and her magical photo.