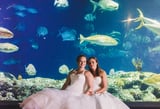 Why settle for any other wedding venue when you can get married at an aquarium? Well, that's probably what Laura and Julia were thinking when they tied the knot at an amazing aquarium in Charleston, SC. The pair were married in an outdoor ceremony overlooking the majestic blue waters, which made for the ultimate scenic spot to exchange their vows. They later went inside the aquarium for their reception and a magical photo shoot.
The happy newlyweds posed alongside a gigantic floor-to-ceiling tank full of marine life, and the grandeur of the coral and fish within the tank led to some jaw-dropping photos. "The two have been around the world together, so they wanted their wedding to reflect their various experiences and create some new traditions. It was a perfect, amazing day!" said photographer Nathan Bell, who was there to capture the magical day. Keep reading to see the breathtaking photos from this aquarium wedding!
Related: These Brides Had the Most Picturesque Setting For Their Elopement – the Lake Shots Are Stunning!