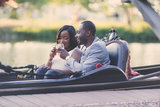 If there ever was a reason to travel to Boston, a gondola ride along the Charles River would be it. Engaged couple Farah and Cliff took their photos during the boat tour – and the resulting work is magnificent.
"This superstylish bride and groom-to-be couldn't have had a more romantic engagement session planned!" photographer Makayla Jade said. "Starting in Boston's quaint and classic Beacon Hill, Farah was dressed to kill in this gorgeous dress! After a few dances in the street, we headed for a sunset gondola ride on the Charles River complete with music, wine, and treats – swoon!"
We could use a little music, wine, and treats on the water right about now. See all the elegant photos ahead!