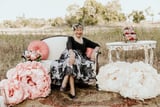 Age is truly a blessing, and the older you get, the more family you have to celebrate your birthday with. Photographer Melissa Fe Chapman wanted to do something big to celebrate her grandma's 95th birthday. Melissa first threw her grandma a surprise birthday party, which was full of friends and family. However, Melissa wanted to capture her grandma's fun spirit, so she decided to throw her a beautiful birthday celebration photo shoot!
"My initial vision for the birthday photo shoot was simple and to snap a few photos of my grandma, aka Mama, to cherish in the years to come," said Melissa. "As soon as my grandma saw everything come together, she was in awe and could not stop thanking me for making her feel like a 'princess.' But honestly, she is the true queen, and this was only a piece of my appreciation for everything she has done and taught me in my life."
The venue for the birthday shoot was absolutely stunning and included handmade large pink and white peonies and a flower crown for the birthday girl. There was even a delicious strawberry cake with lots of fruit on it to go along with the floral vibes of the decor. Check out these spectacular photos ahead!