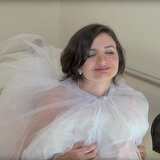 For the bride, wedding days are emotional, wonderful, unforgettable, magical, incredible . . . and awkward as hell. You know what we mean – it's nearing the end of the reception, the bride's been guzzling champagne and consuming rich, fiber-laden foods, and she's gotta pee, or worse, poop. Of course, she can't lift that 10-lb. dress by herself without making a mess or damaging the gown, so the bridesmaids are there to assist. Needless to say, embarassment ensues (unless, you know, she's really tipsy).
Here to help is Bridal Buddy, the one product that'll make trips to the bathroom a piece of (wedding) cake. Watch the slightly ridiculous video above to see just how it works.
That face says it all!