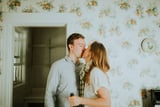 We forget that couples portrait sessions aren't limited to engagements, weddings, and anniversaries, but are meant to celebrate all momentous occasions. So, when Elise and Ryan wanted to document their love and excitement before renovating their new home together, photographer Elizabeth Willis was completely open to the idea. "I imagined all of my HGTV Fixer Upper dreams coming true and the session did not disappoint!" she said.
Elizabeth met up with the couple on the same day they closed on the house to capture all the emotions. The photos feature the peeling wallpaper, outdated appliances, and all the work that's to be done, but most importantly, they show the beginning of Elise and Ryan's adventure as homeowners together.
See the sweet photos!