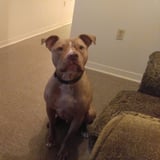 Victiming blaming should never happen, period. No matter what they wore, when it happened, or where they were, an assailant is always the one who needs to be held accountable for their actions, not the person assaulted.
Yet women are often scrutinized after an attack and judged for what they did or didn't do that could have "led" to the unwanted actions against them. Bree Wiseman is sick of this continued victim blaming and wants people who don't get it to understand why the perpetrator is solely responsible for what they did.
In a simple yet powerful Facebook post, Bree used a photo of her dog to show exactly why victim blaming is a major issue.
"To the people that say women get raped due to the way they are dressed. This is my dog. His favorite food is steak. He is eye level with my plate. He won't get any closer because I told him no. If a dog is better behaved than you are, you need to reevaluate your life."
Bree hopes that others share her photo not only because of how adorable her dog is, but also because the pup represents a powerful message that so many individuals are still struggling to comprehend.